Welcome to Lotus Speech Canada!
Under the direction of Changling Rinpoche, who lives and teaches at Shechen Monastery in Nepal, Lotus Speech Canada is a community of Buddhist practitioners who follow and practice the Tibetan Nyingma tradition teachings of HH Dilgo Khyentse Rinpoche, the Northern Treasures lineage, and the Rechung Kagyu Lineage.
The Venerable Changling Rinpoche will return to North America in the summer of 2014. Please sign up for our newsletter to be kept informed of Changling Rinpoche's teachings in Canada as well as other Lotus Speech Canada news and events.
The Lotus Speech Transcription Project: It is Rinpoche's aspiration that the teachings reach as many people as possible. To facilitate this we are transcribing all of his current and past teachings. If you are interested in participating in this project please contact us at: lotusspeech@dccnet.com.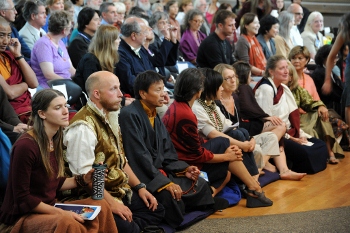 Lotus Speech Canada is currently reviewing our structure, vision and plans. In the future we hope to offer more programs and opportunities to become involved. Several updates to this website will be made throughout the summer of 2013. Please come back soon.
Please enjoy exploring our website and feel free to contact us at any time.

View our privacy policy.