Monthly Archives:
May 2011
Thank you everyone for your deep commitment to practice and helping all beings. Lotus Speech Canada practitioners accumulated 100,000 Seven Line Prayer offerings to add to the current puja in Kalimpong!
Hi everyone,
The Sikkim Pilgrimage concluded on the 3rd of May and everything went well. We were fortunate to meet with Dodrupchen Rinpoche at his monastery in Gangtok to receive his blessings and to visit the Guru Rinpoche image which grew and went through the ceiling after being blessed by Dodrupchen Rinpoche.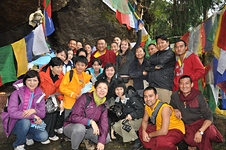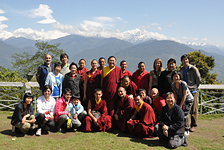 We celebrated Rinpoche's birthday on the 1st of may in Gangtok with dinner at a hotel and then on the 2nd of May celebrated Momo-la's birthday with a big party given by Gyatso, Rinpoche's father. Rinpoche gave a lovely speech to the pilgrimage group and he dedicated all the merits from the pilgrimage for all the masters to live long and for the dharma to flourish, as well as to all the victims of the natural disasters last year and early this year.
He also said for next year's pilgrimage – maybe to Sri Lanka or to northern Sikkim.
Best regards,
Min Li