Lama Tsundro came from Tibet. While in Tibet he did retreat in a cave for six years practicing Vajrasattva. His practice was continuous and he did not give up his practice or come out of the cave even when he ran out of food. His teacher said that by the power of his practice he would go to a place where they are speaking a different language and he would be able to benefit the people there.
He didn't understand what his teacher was trying to say but later he found himself in this place called Munsong which was full of Nepalese people. They were practicing a shamanic tradition and conducting animal sacrifices. Lama Tsundro introduced the Buddhist path of nonviolence and the ten virtuous practices. By the strength of his own practice he stopped more than 1000 families from practicing sacrifices. These families also came to embrace the practices of non-violence and the ten virtuous actions.
An older woman offered land for the dharma and Lama Tsundro developed the temple where people now gather to practice and study. The centre now supports six monks and two nuns as well as a few hundred devout Sikkimese and Nepalese country folk. There are now lots of young people showing interest in practice.
As of this morning, Lama Tsundro is still resting in meditation posture. His remains will be cremated on February 10th.
Changling Rinpoche has asked that we begin Guru Yoga and Mani recitations. There is a special blessing and power to practices done when a master passes away and it is a great opportunity to gather merit and purify negativities.
You can read more about Lama Tsundro and Munsong Gompa on the Munsong Gompa website.
Lama Karma Tsundro, founder of Munsong Gompa, passed into Pairanivana on the morning of February 1st. He was in his eighties. Lama Tsundro was a student of the previous Changling Rinpoche and the current Changling Rinpoche is now the spiritual director of Munsong Gompa. Lotus Speech has long been a supporter of this organization.
Thank you everyone for your deep commitment to practice and helping all beings. Lotus Speech Canada practitioners accumulated 100,000 Seven Line Prayer offerings to add to the current puja in Kalimpong!
Hi everyone,
The Sikkim Pilgrimage concluded on the 3rd of May and everything went well. We were fortunate to meet with Dodrupchen Rinpoche at his monastery in Gangtok to receive his blessings and to visit the Guru Rinpoche image which grew and went through the ceiling after being blessed by Dodrupchen Rinpoche.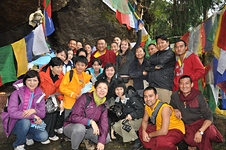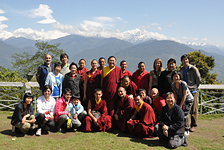 We celebrated Rinpoche's birthday on the 1st of may in Gangtok with dinner at a hotel and then on the 2nd of May celebrated Momo-la's birthday with a big party given by Gyatso, Rinpoche's father. Rinpoche gave a lovely speech to the pilgrimage group and he dedicated all the merits from the pilgrimage for all the masters to live long and for the dharma to flourish, as well as to all the victims of the natural disasters last year and early this year.
He also said for next year's pilgrimage – maybe to Sri Lanka or to northern Sikkim.
Best regards,
Min Li