Changling Rinpoche's 2015 Canada schedule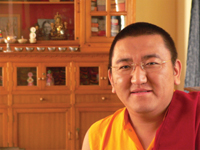 Changling Rinpoche will be giving teachings in Canada during September and October 2015.
Please note that there have been some changes to Rinpoche's schedule, largely because of a time conflict with teachings that Thrangu Rinpoche is giving in Vancouver. The teachings which were scheduled for Vancouver have now been cancelled, and the date and venue for the Victoria teachings has been changed. We are delighted to tell you that Rinpoche will also be teaching in Toronto beginning October 17, although the details about these teachings aren't yet available.
The revised schedule below also lists additional events which will take place during Rinpoche's stay at Kathok Centre in Coombs BC.
Coombs, British Columbia
September 28 to October 1, evenings 6:00 to 9:00 pm. Teachings on Khenpo Gangshar's Naturally Liberating Whatever You Meet.
The following afternoon events at Kathok Centre are open to everyone to attend by donation. No need to preregister – just come!
September 29, 10:00 am to 12:00 pm. Group interview with Rinpoche.

This is a precious opportunity to meet informally with Rinpoche and ask our questions about practice and about incorporating the dharma in our lives. When Rinpoche recently held these group discussions in Australia they were a profound experience for all who attended.

September 29, 2:00 pm to 4:00 pm. The Wisdom of Elders.

Changling Rinpoche will tell stories of the life of his grandmother in Tibet and in India, and the story of her death in 2014. He will also be available to sign copies of the recently published book about his grandmother, Lhamo Buiti: Journey of Spirit. Sales of this book support Munsong Gonpa, a small monastery that Rinpoche directs outside of Kalimpong.

September 30, 2:00 pm to 4:00 pm. Group interview with Rinpoche.

See the description above under September 29 morning.
Victoria, British Columbia
October 2, 7:00 to 9:00 pm and October 3, 9:30 am to 4:00 pm. Teachings on Jigme Lingpa's Aspiration of Ground, Path and Fruition.

Eligibility: Rinpoche requests this teaching be restricted to those who have received one of the following Inner Tantra Empowernments: Vajrayogini, Vajrakaliya or Kalachakra.
Location: Victoria Shambhala Centre
Information and Registration: Please use this link to register for these teachings.
Contact: Sandy Melnyk info@lotusspeech.ca or Brian Menzies brianmenzies@telus.net
Halifax, Nova Scotia
October 9 to 11. The teachings of Khenpo Gangshar Wangpo, from his Collected Works.
October 12. Death and How to Die.
Toronto, Ontario
October 17 to 20. Topic TBA.

We will post details about Rinpoche's upcoming teachings in Toronto as soon as that information is available.
Rinpoche has requested that students recite the Seven Line Prayer to Padmasambhava as well as The 21 Praises to Tara to remove any obstacles to this teaching tour.
We also believe that including prayers for the health and long life of Changling Rinpoche in the dedication of our daily practice would be very beneficial. Below is the Long Life Prayer for Changling Rinpoche written by the late Trulshik Rinpoche.
Long Life Prayer for Changling Rinpoche
Orgyen tukse choyang trulpe gar
Mainifest dance of Gyalwa Choyang, Orgyen's heart son,
Kunsang pema tenpa gyatso la
Perfected in study and assimilation, and now holder of
Sensam tarchin dzinpe chepo ru
The ocean of Samantabhadra and Padmasambhava's teaching:
Choksum chinlap shabten shedrup shok
blessed by the three jewels, may your life be firm and your aspirations be fulfilled.