Purchases
From time to time Lotus Speech has items to sell as part of our ongoing fundraising efforts. Because we are a volunteer-run organization, all of the proceeds from sales go toward our programs and projects.
The Story of Changling Rinpoche's Grandmother
Lotus Speech board member Sandy Melnyk has written a lovely book about the life story of Changling Rinpoche's grandmother.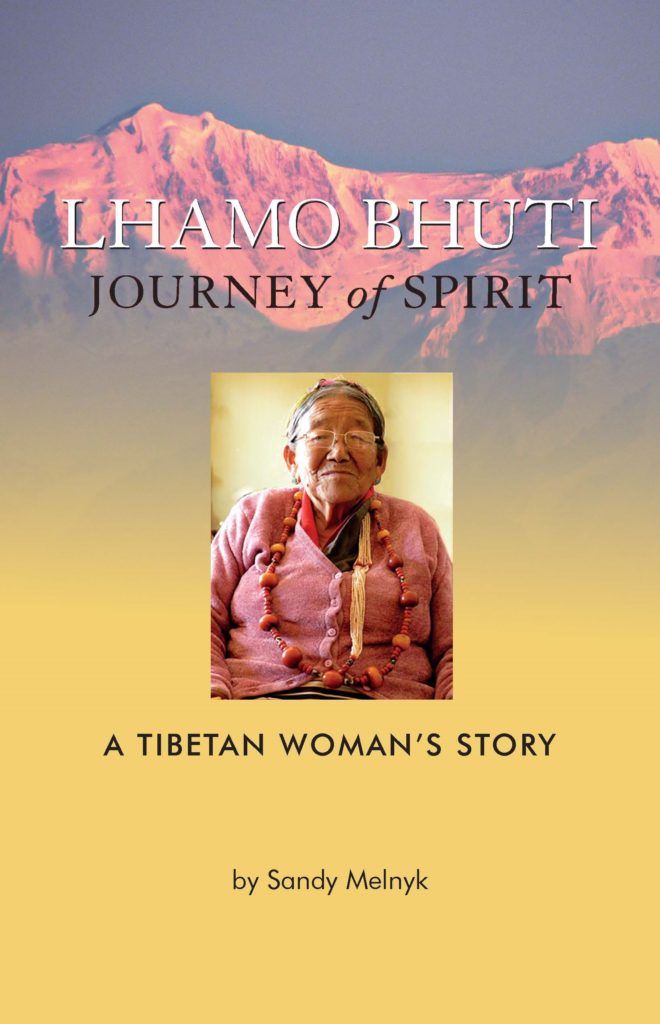 Lhamo Bhuti was born in 1931, year of the metal sheep, in the Shab Valley near Shigatse, Tibet. She was educated, which was rare for a female during this time in her society, and subsequently assisted her father as a secretary in the Tibetan army. She later married and had three children. In the early 1960s, after the Chinese invasion and the death of her husband, she escaped into India where she faced many challenges such as exhausting physical labour building roads, plus a new culture and a language that she did not understand. Despite everything, she worked tirelessly to help her family and she maintained a strong Buddhist practice. Lhamo died in 2014.
"The story of Lhamo Bhuti's life is a homage to the thousands of Tibetan women whose destiny took them along paths parallel to hers and who managed against all odds to rebuild their lives in new lands while preserving their precious religious and cultural legacy. I pray that this legacy may perdure for a very long time and that it may bring its wisdom to future generations and benefit all beings."
— His Holiness Sakya Trinzin
"My grandmother risked her life and the lives of her children to flee to India. I have asked that Lhamo Bhuti tell her story so that a new generation of Tibetans will understand the hardships that were experienced, as well as how Tibetan society and its values continue in exile. Tibetan culture is based on Buddhist values of kindness and compassion, including respect for others, respect for our elders, and forgiveness. This is the heart of Tibet."
— Changling Rinpoche
All proceeds from the sale of this book will go toward supporting Munsong Gompa.

Lotus Speech Canada shoulder bags
Plenty of room and plenty of pockets for carrying all sorts of paraphernalia! One outside pocket with zipper, one large inner zippered pocket and two open pockets on the sides. Bag is 38 cm wide by 31 cm high and the shoulder strap is 18 cm wide by 48 cm length. Well made from heavy duty but soft 100% cotton.
Five colours available: burgundy, light blue, dark blue, olive brown and slate. Please choose your colour preference below. Bags are $20 Canadian each plus shipping. Please contact us for shipping outside Canada. You can use the secure PayPal shopping button with any major credit card. Or save the shipping cost by purchasing at our teachings and events!